Xerox is a corporation that originated in America that initially sells print and digital document products and services it is now, a worldwide brand, found in more than 160 countries.
The Haloid Company, a producer and seller of photographic paper, was the name of the business when it was established in 1906. Chester Carlson's invention of xerography, a method of imaging, was licensed to the company in 1947. The Haloid Xerox Company was given a new name in 1958, and in 1959 it unveiled the 914 xerographic copiers. Although the method for creating photographic reproductions on plain, uncoated paper had been around for a while, this was its first commercial use. The brand's popularity and name recognition increased as a result of the product, and the business is still fighting to keep the term "Xerox" from becoming generic. In 1961, the business changed its name to Xerox Corporation.
Scanners, printers, and multifunction systems that can scan, print, copy, email, and fax are just a few of the office supplies that Xerox makes and sells.
For the graphic communications and commercial print industries, the Xerox product portfolio includes high-volume, digital printing presses, production printers, and wide format printers that use xerographic and inkjet printing technologies. These model families include WorkCentre, Phaser, and ColorQube. Products include the Trivor, iPrint, and Rialto (inkjet) devices as well as the iGen, Nuvera, DocuPrint, and Impika series.
Both as a noun and a verb, the word "xerox" is frequently used as a synonym for "photocopy," as in the sentences "I xeroxed the document and placed it on your desk" and "Please create a xeroxed copy of the articles and pass them out a week before the exam." The corporation does not support both uses of its brand, despite the fact that both are widespread. It is especially concerned about the continued use of the verb Xerox since it puts the trademark in danger of being deemed a generic word by the courts. To persuade people that the word "Xerox" shouldn't be used as a verb, the business has been running an ongoing media and advertising campaign.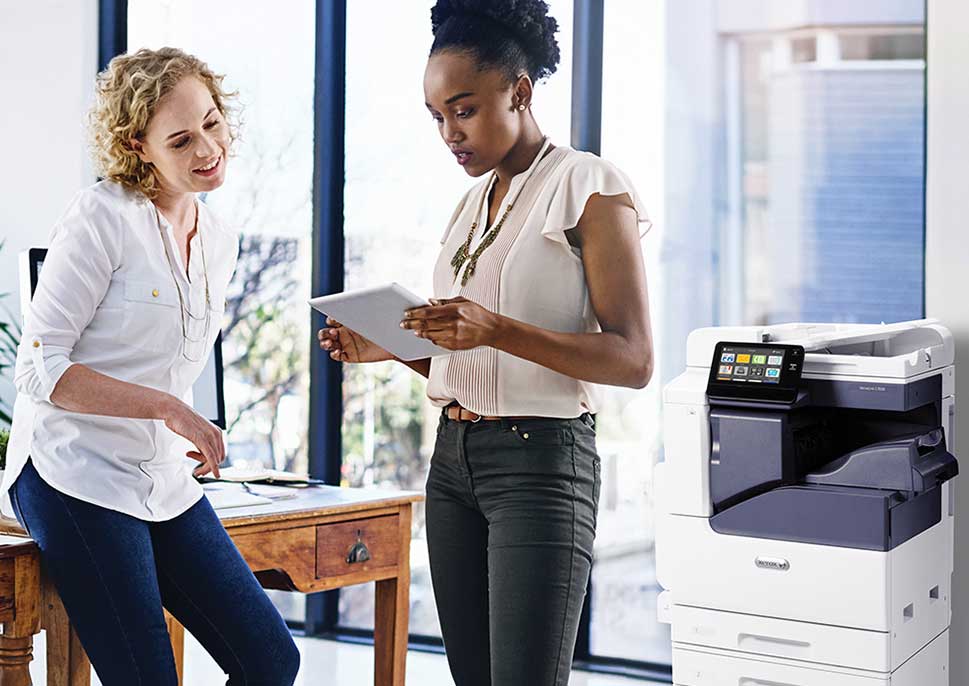 In order to do this, the business has written to media that have used the verb Xerox. Additionally, it has paid for print advertisements that use the term "xerox" and state that although a document cannot be "xeroxed," it may be copied using a Xerox Brand copying machine. Despite their efforts, several dictionaries, including the Oxford English Dictionary, still list "xerox" as a verb. Xerox Corporation continues to protect its trademark in the majority, if not all, trademark categories. After "almost 50 years (1963-2009) of continued existence on the register without challenge, and with proof of almost 44 years of use evident (1965-2009),"[91] the Intellectual Property Appellate Board (IPAB) of India declared "xerox" a non-generic term in 2012. However, as of 2015, the majority of Indians still believed this to be the case.
Xerox® has long been recognized as having invented the copier, the ethernet interface, or the laser printer.
The goal of Xerox® today is to improve productivity on a daily basis. Businesses that want to manage information across physical and digital platforms can rely on Xerox® for a seamless, safe, and long-lasting experience.
Xerox has continuously redefined the workplace experience for more than 100 years. In order to sustainably power the workforce of today, we have expanded into software and services by leveraging our position as a leader in office and production print technology. Our unique business solutions and financial services are created to improve everyday work for clients, no matter where that work is being done, from the office to industrial settings. With disruptive technologies in digital transformation, augmented reality, robotic process automation, additive manufacturing, industrial internet of things, and cleantech, Xerox scientists and engineers are carrying on our tradition of innovation today.
If you plan to get copiers for your office in Columbus, you can buy or lease copiers in Columbus. We can give you the option to get the copier that you want. You can contact our local copier leasing services department in your location.
If your Location is around Columbus, you may call us at (614) 210-0800, and our personnel for copier leasing in Columbus will assist you. If you are also looking for copier repair services in Columbus, you may contact our copier repair personnel at the same number.